Quality Improvement Plan 2023/2024
Perley Health is a not-for profit seniors' care organization with 450 provincially licensed long-term care beds. While Perley Health's primary focus is on long-term care, it also actively supports the capacity of seniors to live independently. To this end, Perley Health partners effectively with like-minded organizations across the continuum of care to develop a community of care and to provide ready access to a range of clinical and therapeutic services, along with social and recreational activities.
Perley Health is pleased to share its 2023/24 Quality Improvement Plan (QIP). Our ongoing commitment to quality is reflected in our mission "to achieve excellence in the health, safety and well-being of Seniors and Veterans with a focus on innovation in person centred and frailty-informed care and service" and in our long-term strategic plan, which identifies Excellence in Resident Care and Service as one of Perley Health's 4 key strategic pillars. In 2021, Perley Health's strategic plan was refreshed in response to several unprecedented factors which resulted in a fundamentally changed healthcare landscape. These factors included, amongst others, the ongoing impacts of the COVID-19 pandemic, persistent healthcare worker shortage and burnout, increased public attention on long term care, and increased regulation of an already highly regulated environment. The core pillars of the long-term strategy remain relevant, and are reflected in the interim strategy which outlines objectives and priorities for 2022 - 2025. These objectives include "Sustaining excellence in Seniors' and Veterans' care", as well as embodying a "People First" philosophy. The QIP is a roadmap to achieving both of these objectives, while navigating challenges and opportunities in our environment.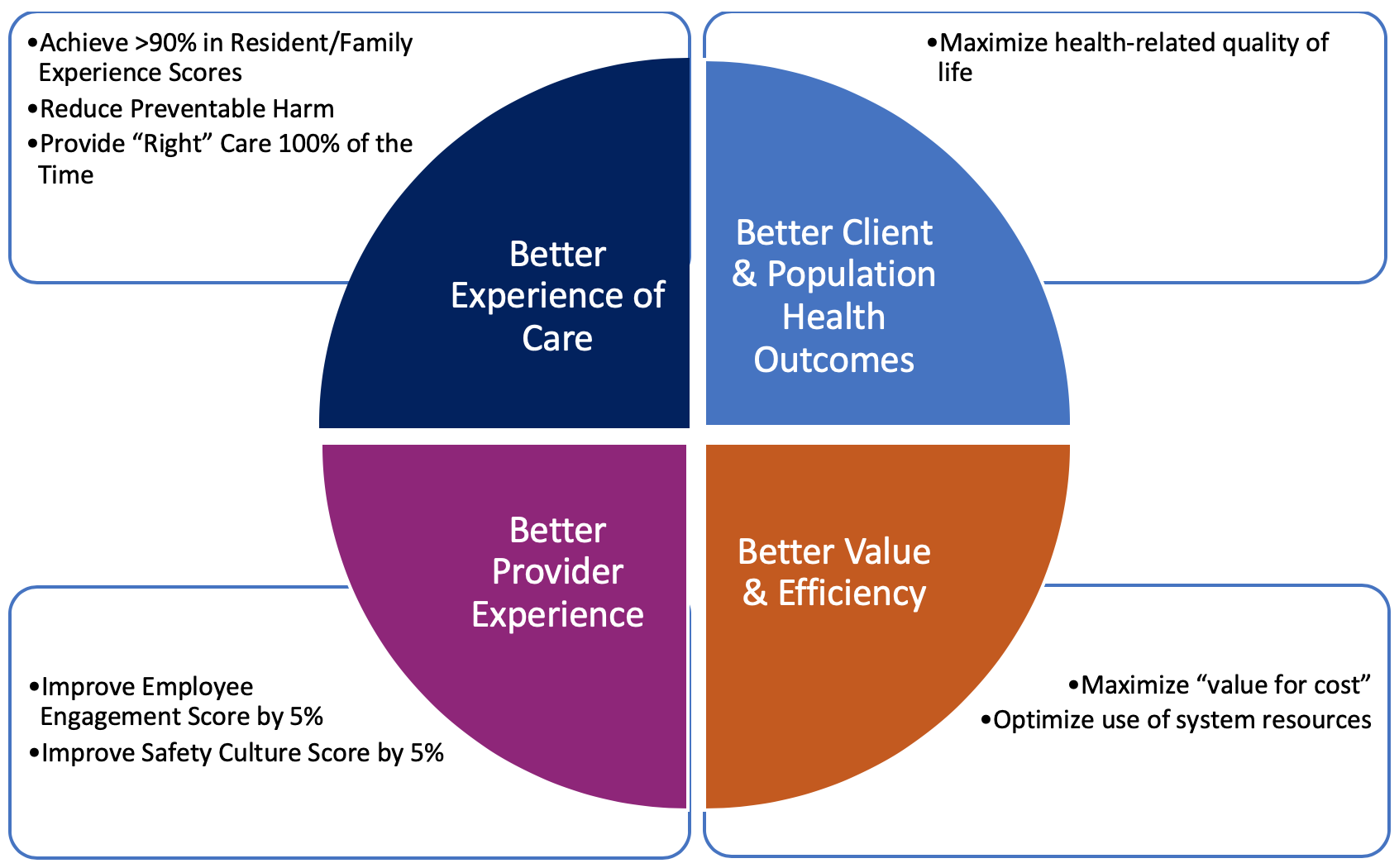 Perley Health's QIP is aligned with our Quality Framework, based on the Quadruple Aim framework adopted by Ontario Health. The high-level priorities for this year's QIP are informed by the quality and safety aims under the various pillars of the framework, as determined by Perley Health's Board of Directors:
increase resident and family experience
reduce preventable harm
provide the "right care" 100% of the time
improve health-related quality of life
improve the provider experience
Quality priorities, targets for improvement and projected change ideas/tactics reflect:
progress achieved in recent years;
the most recent performance data available from the Canadian Institute for Health Information (CIHI), resident, family and staff experience surveys and our electronic health record;
emergent issues identified internally (trends in critical incidents) and/or externally;
input from residents, families, staff, leaders and external partners, including the MOLTC.
Priorities are divided into 2 categories – focused action and moderate action. Please note that targets reflect a blended average for both our community and veteran residents.
Focused Action:
Enhance Psychological Health and Safety (increase the percentage of staff that respond positively to "I feel safe to give feedback about things that matter to me" from 61% to 66%).
Increase the percentage of residents who responded positively to "I participate in meaningful activities" from 47% to 55%.
Increase the percentage of residents who responded positively to "I enjoy mealtimes" from 65% to 75%.
Moderate Action:
Ensure that 100% of residents that die at Perley Health have a "meaningful death" (as identified by resident and/or family).
Reduce the percentage of residents on antipsychotics without a diagnosis of psychosis from 23% to 22%.
Reduce the percentage of residents whose mood from symptoms of depression worsened from 33% to 32%.
Reduce the percentage of residents who experienced pain from 12% to 11%.
---
Contact Information
Melissa Norman
Director, Quality and Interprofessional Care
Email: mnorman@perleyhealth.ca
Phone: 613-526-7170 ext. 2448