Quality Improvement Plan 2020-2021
Please note that on October 6, 2021, The Perley and Rideau Veterans' Health Centre transformed to become Perley Health.
As this Quality Improvement Plan pertains to the time period prior to the name change, The Perley and Rideau Veterans' Health Centre (Perley Rideau) name is retained.
The Perley and Rideau Veterans' Health Centre (Perley Rideau) is a not-for profit seniors' care organization with 450 provincially licensed long-term care beds. While the Perley Rideau's primary focus is on long-term care, it also actively supports the capacity of seniors to live independently. To this end, the Perley Rideau partners effectively to develop a community of care and to provide ready access to a range of clinical and therapeutic services, along with social and recreational activities.
Perley Rideau is pleased to share its 2021/2022 Quality Improvement Plan (QIP). Perley Rideau's primary focus is Excellence in Care and Service. Our commitment to quality is reflected in our mission "to achieve excellence in the health, safety and well-being of Seniors and Veterans with a focus on innovation in person centred and frailty-informed care and service" and in our supporting strategic plan, which was updated in 2017 to better reflect the evolving healthcare landscape.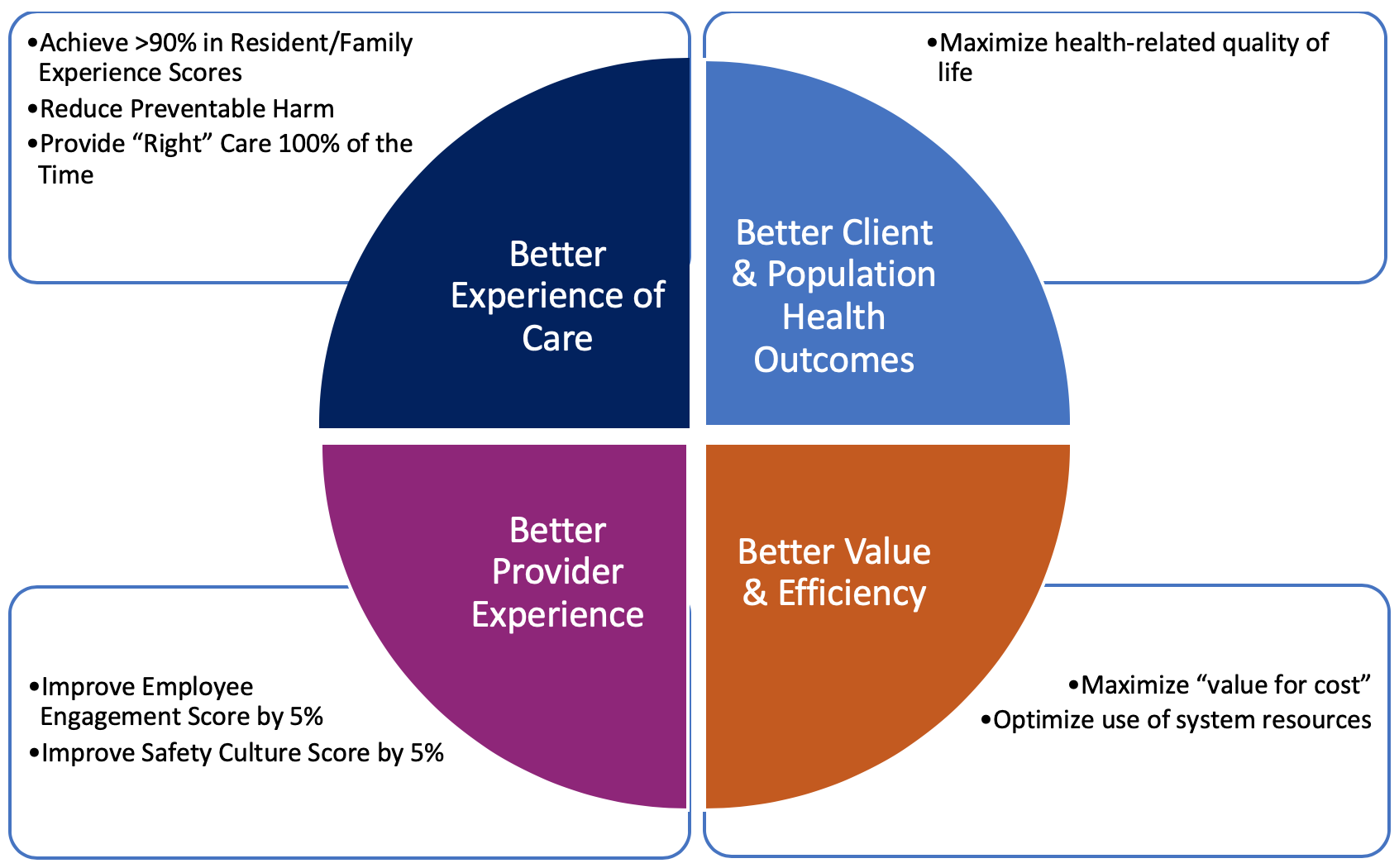 The high-level objectives for this year's QIP are informed by the quality and safety aims under the various pillars of the framework, as determined by Perley Rideau's Board of Directors:
increase resident and family experience
reduce preventable harm
provide the "right care" 100% of the time
improve health-related quality of life
improve staff experience
Specific initiatives, targets for improvement and projected change ideas/tactics for each high-level objective reflect:
progress achieved in 2020/2021 (which was significantly impacted by the pandemic);
the most recent performance data available from the Canadian Institute for Health Information (CIHI), resident, family and staff experience surveys and our electronic health record;
emergent issues identified internally (trends in critical incidents) and/or externally
input from residents, families, staff, leaders and external partners, including the MOHLTC.
Initiatives are divided into 3 categories – focused action, moderate action and monitoring. Please note that targets reflect a blended average for both our community and veteran residents.
Focused Action:
1) Maintain or increase the percentage of residents who would positively recommend Perley Rideau to others (currently 83%, target at or above 90%).
2) Eliminate staff to resident abuse/neglect (reduce incidents reported to the MLTC from 6 to 0).
3) Increase the percentage of residents who have their palliative care needs identified and documented from 60% to 80%.
4) Enhance Culture of Safety (increase safety culture survey score from 2.74 to 2.90).
Moderate Action:
5) Reduce the percentage of residents on antipsychotics without a diagnosis of psychosis from 17.5% to 17.0%
6) Reduce the percentage of residents who had a worsening pressure ulcer from 2.5% to 2.3%
Ongoing Monitoring:
8) Reduce the percentage of residents who experienced pain from 14.9% to 14%
9) Reduce the percentage of residents who had a fall in the last 30 days from 21% to 20%
10) Reduce the number of potentially avoidable ED visits per 100 residents (currently 14.7%, to a target of 14% or below).
11) Reduce the use of daily physical restraints from 3.7% to 3.5%.
Contact Information
Melissa Norman
Manager, Quality Improvement and RAI
Email: mnorman@perleyhealth.ca
Phone: 613-526-7170 ext. 2448