Maps and other essential information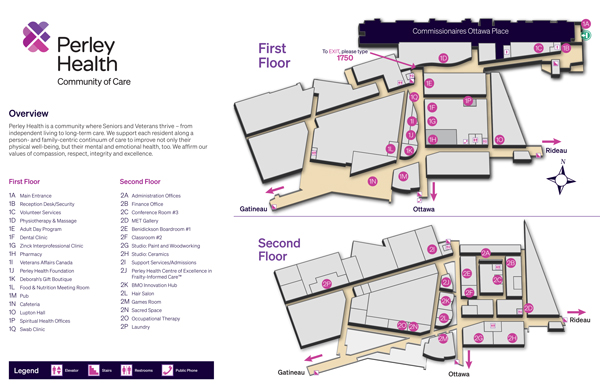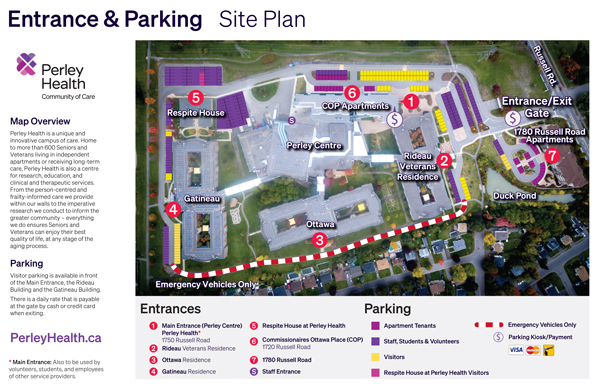 Key Contacts
Veterans Affairs Canada (External Link)
Communications with Perley Health
There are many ways to stay in contact with the Perley Health team and channels to direct your questions.
Listed below are some of ways to stay in touch.
Family Helpline: 613.526-7170

ext. 2980
If the support person is not available to answer your call, please leave a message and expect a response within one business day.
Perley Health
Emails sent from the Perley Health's Communications office.
Includes COVID-19 updates, general information for families, including events, news and resident highlights.
Subscribe to receive emails: info@perleyhealth.ca
Mail a Resident
Perley Health
1750 Russell Road
Ottawa, ON

Name of resident
Building name and room number (if available)
Managers of Resident Care
Gatineau Building: Kerry Tubman, ext. 2110
Rideau Building: Samantha Diceman, ext. 2113
Ottawa Building: Stephanie Kim, ext. 2405
Perley Health RPNs
Call Bell Number Extensions – 613-526-7170 + ext.
If calling to cancel a visit on the same day, or a visit occurring over the weekend, please contact the unit RPN.
Gatineau Residence
Gatineau 1 North (G1N): 8532
Gatineau 1 North (SBSU): 8531
Gatineau 1 South (G1S): 8538
Gatineau 2 North (G2N): 8544, 8545
Gatineau 2 South (G2S): 8551
Ottawa Residence
Ottawa 1 East (O1E): 8505, 8506
Ottawa 1 West (O1W): 8512
Ottawa 1 West (SAFE): 8463
Ottawa 2 East (O2E): 8518, 8519
Ottawa 2 West (O2W): 8525
Rideau Residence
Rideau 1 North (R1N): 8555
Rideau 1 South (R1S): 8562, 8563
Rideau 2 North (R2N): 8566
Rideau 2 South: 8573, 8574
Family and Friends Council
Emails are shared from the volunteer-based Family and Friends Council.
Includes summary of most recent FFC monthly meeting and info about upcoming meetings.
Family and Friends: familycouncil.prvhc@gmail.com
Subscribe to receive emails: familycouncil.prvhc@gmail.com