Urgent News and COVID-19 Update
Subscribe to receive emails with updates specific to COVID-19 developments and urgent news from Perley Health
Email info@perleyhealth.ca and ask to be added to the email distribution list.
Individuals can unsubscribe at any time using the "unsubscribe" link at the bottom of the email message.

Please note that once an individual has un-subscribed, that email address cannot be reinstated by Perley Health staff.
Access our screening tool online (.PDF)
Ontario government information about the pandemic (External Link)
---
Community Documents
Essential Caregiver Designation Form: CLICK HERE
View our archive of important announcements about the pandemic: CLICK HERE
For all visitors, the following videos are recommended by Public Health:
---
Visitor restrictions currently in effect at Perley Health
If you have been instructed to quarantine by public health officials, please do not visit
If you are experiencing signs and symptoms of COVID-19, please do not visit
Any individual who has tested positive for COVID-19 must wait 10 days before coming into the home
Any individual visiting with a resident in the home will need to provide proof they have been fully vaccinated against COVID-19
All individuals entering the home:
Essential Care Givers (ECGs) must be tested for COVID-19 via a rapid antigen test (RAT) twice a week if visiting more then two times a week if they received three or more doses of the COVID-19 Vaccine. If they received less then three doses of the vaccine, they must complete three RATs per week. ECGs must wait for their results.
General visitors must be tested for COVID-19 via a rapid antigen test prior to each visit and wait for the results.
In the event of an outbreak, only one designated care giver is permitted at a time to visit a resident on the outbreak unit.
Tania Paolini, RN, BScN, CIC
Manager, Infection Prevention & Control
---
May 23, 2022
After 2 am this morning, power was restored to Perley Health.
Thank you Perley Health residents, tenants, staff, families, volunteers and friends for your many tireless efforts of support for our community throughout this emergency.
For so many, including the army from Hydro Ottawa, this was not the long weekend you envisioned but we thank you for stepping up and answering the call when our community needed you.
Our thoughts are with the more than 100,00 of the region's residents who await the return of power.
May this holiday Monday mark the start of the return to normal.
Jay Innes
Director of Communications
---
May 22, 2022
The power outage at Perley Health continues as a result of Saturday's storm.
Hydro Ottawa indicates that the return to service is pending. No time estimate is provided.
Staff are making extraordinary efforts to comfort and care for residents and tenants. Kudos to all staff, volunteers, family members and friends pitching in today to support our community of care.
For a list of essential phone numbers specific to long-term care at Perley Health, please visit https://www.perleyhealth.ca/essential-information.
For emergency communications with apartment tenants, please phone the Commissionaire at 613-526-7170, ext. 0. Please note that this for emergencies only.
This message was shared across Perley Health's social media platforms, the Perley Health website and emailed to all email subscribers.
Thank you for your support,
Additional Information
See the City of Ottawa's Severe Thunderstorm webpage:

https://bit.ly/3PvtvYFhttps://ottawa.ca/en/health-and-public-safety/emergency-preparedness/severe-thunderstorm-may-21-2022

Ottawa Public Health information on food safety in a power failure:

https://www.ottawapublichealth.ca/en/public-health-topics/food-safety.aspx#Food-safety-during-a-power-failure

FYI - The City of Ottawa has established emergency reception centres that opened today, May 22 at 10 am at the CARDELREC Recreation Complex Goulbourn,1500 Shea Road and the Carleton Heights Community Centre,1665 Apeldoorn Avenue.
---
May 18, 2022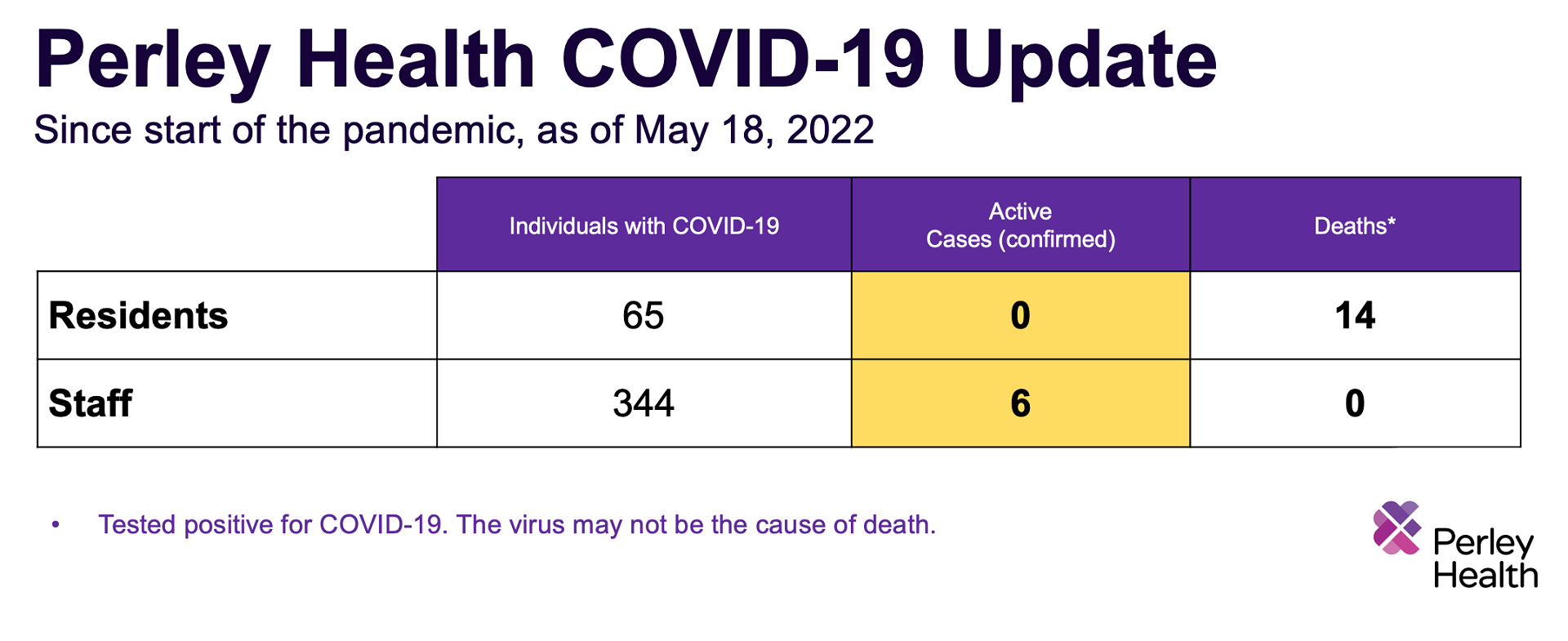 May 17, 2022 Update
Changes to Swab Clinic Hours
We are sharing this message again to help ensure everyone is aware of the changes to Swab Clinic hours.
This message was originally shared widely on May 13.
As of Monday, May 16th, the Swab Clinic hours of operation changed to accommodate staff break times.
Open: Every day from 06:30 to 17:00 hours
The Clinic will be closed for staff breaks:
11:30-12:00 hours
16:00-16:30 hours
Please Note: Essential Caregivers/General Visitors and any individuals required to wait 15 minutes for their test results are requested to please visit the Swab clinic at least 15 minutes before the Swab clinic closes.
It is best to arrive before 11:15 or after 12 Noon
It is best to arrive before 15:45 or after 16:30 hours
This message was posted on May 13th to the Perley Health website (https://www.perleyhealth.ca/public-announcement), emailed to all subscribers and prominently shared on posters throughout Perley Health.
Thanks for your help always.
---
May 14, 2022 Update
The COVID-19 outbreak on Ottawa 2 West (O2W) has been declared over. A huge thank you to everyone for your support with this outbreak.
There are no active COVID-19 resident cases within Perley Health.
As always, please reach out to a member of the IPAC team with any questions (ipac@perleyhealth.ca).
Thank you
Tania Paolini, RN, BScN, CIC
Manager, Infection Prevention & Control
---
Questions/Comments
Jay Innes
Director of Communications
Perley Health
1750 Russell Road
Ottawa, ON.
K1G 5Z6
Phone: ext. 2207
Fax: 613-526-7186
Email: info@perleyhealth.ca