Subscribe to receive emails with updates specific to COVID-19 developments and urgent news from Perley Health
Email info@perleyhealth.ca and ask to be added to the email distribution list.
Individuals can unsubscribe at any time using the "unsubscribe" link at the bottom of the email message.

Please note that once an individual has unsubscribed, that email address cannot be reinstated by Perley Health staff.

Ontario government information about the pandemic: CLICK HERE or follow

https://www.ontario.ca/page/pandemic
---
October 16, 2021 - Respiratory outbreak on Rideau 2 North (R2N)
Ottawa Public Health has declared a respiratory outbreak on Rideau 2 North (R2N).

It is unknown as to what bug is causing this outbreak.
PCR testing on symptomatic staff and residents has been completed and we await the results.
Control Measures implemented for residents on Rideau 2 North
Modifying/restricting activities
For Rideau 2 North residents in isolation on droplet precautions, only essential caregivers and visitors with residents deemed at "end of life" are permitted at this time.
For asymptomatic residents, limited movement off the unit is encouraged
Control measures implemented on the unit include:
Droplet Contact precautions for symptomatic residents
Increased hand hygiene with alcohol based hand sanitizer
Increased cleaning and disinfection on all units
Increased auditing of hand hygiene and Personal Protective Equipment (PPE)
How can you help?
Stay away if you are sick
Wash your hands frequently
Always wear your mask
Get the Flu Shot
Perley Health Flu Shot Clinic October 22, 2021
The IPAC Team will be hosting a flu shot clinic for all staff, volunteers, essential caregivers and service providers on Friday October 22, 2021 in Lupton Hall between 0700 and 1700.
If you have any questions please reach out to a member of the IPAC team (

IPAC@perleyhealth.ca

)
Tania Paolini, RN, BScN, CIC
Manager, Infection Prevention & Control
---
October 14, 2021
Changes to COVID-19 testing requirements for fully immunized individuals
Changes take effect October 18, 2021
This applies to staff/student placements/volunteers/contracted service providers/essential care givers and general visitors.
In accordance with the recent update to the Minister's Directive on surveillance testing, to aid in the early detection of possible breakthrough cases of COVID-19, homes are now required to undertake testing of fully immunized individuals using rapid antigen tests. This surveillance testing is for all asymptomatic staff, student placements, volunteers, contracted service providers, essential caregivers and visitors over age 2 years entering a Long-Term Care home.
Effective Monday, Oct 18th, all fully immunized individuals entering Perley Health for the purpose of work or visiting a resident will now be required to complete 1 rapid antigen test per month for surveillance purposes as per Ministry's requirement.
What this means?
For fully immunized individuals
All individuals who are fully immunized must complete 1 rapid antigen test per month to comply with the Ministry's requirement
Those not working/visiting on the Swab Clinic days, can still come into Perley Health to complete testing
Those who wish not to come during the hours when the swab clinic is open, can complete a rapid antigen test off-site (local Pharmacy) and email proof of a negative result to swab@perleyhealth.ca.
Note: Please do not wait to complete testing till the last day of the month as resources are limited in the Swab Clinic.
For partially/non- immunized individuals
There has been no change to testing frequency.
Swab Clinic Hours
Open on Tuesday, Thursday and Saturday from 0700-1445.
The clinic is closed from 1130-1200.
Thank you for your understanding while adapting to the changes and helping keep the Perley Health community safe.
NOTES ABOUT VISITING
There is no limit on visitors as long as appropriate control measures are observed.

For example, if they want to go to the cafeteria they must wear masks or remain 6 ft/2 m apart.

Residents can go out and they can leave the property after they speak to the nurse on the unit.
If a resident is unvaccinated and they go offsite, they may have to be tested and isolated upon return.
---
October 12, 2021
A message from Akos Hoffer, CEO, Perley Health: VIEW HERE
---
Protocols For Entering Perley Health
Please note that in compliance with the government directive, the Main Entrance is the only public access. Access is supported 24-hours a day by Commissionaires and Perley Health staff.
Note: the app can be completed no more than 120 minutes prior to arrival at Perley Health.
Screening on the app can also be completed at screening stations in the Main Entrance.
General Visitors and Essential Caregivers: Proceed to Swab Clinic to show photo ID and proof of *full immunization and receive a proof of immunization card for ease of access in the future. On days the Swab Clinic is closed, proof of immunization will be validated by the Commissionaires and/or Reception staff to permit entry.
*Fully immunized means that the individual has received all doses in their vaccine series and more than 14 days ha

s

ve passed since the receipt of the last dose.
Information For General Visitors
General visitors who are not immunized must continue to complete antigen testing according to Ministry directives (every time they visit).
This testing can be completed at Perley Health, when the Swab Clinic is open, or at an off-site clinic.
The Swab Clinic operates on Tuesdays, Thursdays and Saturdays between the hours of 0700-1445 (the clinic is closed between 1130-1200 for lunch).
This is only to accommodate individuals who are not yet fully immunized. For those experiencing symptoms, please proceed immediately to an off-site testing centre.
If individuals wish to visit in the evening, they will have to ensure that they come in to be tested when the clinic is open and return for their evening visit.
If individuals wish to visit on the days when the Swab Clinic is closed, they must present either proof of their COVID-19 immunization (fully immunized) or proof of a rapid antigen test from the same day. This test result must be from the same calendar day and not within 24 hours. Please present this to the Commissionaire at the reception for validation.
The Swab Clinic is only for asymptomatic individuals who are not yet fully immunized.
No voluntary testing will be completed in the swab clinic for fully immunized individuals. Individuals wanting to be tested will need to book an appointment off-site (local pharmacy).
Immunization cards can only be received from the swab clinic and therefore, those individuals visiting outside of clinic hours will have to show proof of their COVID-19 vaccination to the Commissionaire each time they visit.
Testing Frequency Changes (effective, Monday, September 13, 2021)
The Ministry of Health has recently increased the number of times testing for COVID-19, it is required by

of

all individuals who are: 1) not fully vaccinated; 3) choose not to divulge their vaccination status; 3) are medically exempt from vaccination.
This also applies to Essential Caregivers and all visitors.
For simplicity, all these persons will be referred to as "individuals" in this document.
For all individuals entering the Perley Health who are not fully vaccinated, testing for COVID-19 is required to a maximum of three times per week.
Please note that this is a recent change from the Ontario government, an increase from the maximum two tests per week and is a response to the increased risk in the community.
It is Perley Health's interpretation that the required number of tests per week for all individuals overrides the direction that tests not be conducted on consecutive days.
Testing is mandatory.
Individuals entering Perley Health once a week will require one test.
Individuals entering Perley Health twice a week will require two tests.
Individuals entering Perley Health three times a week - or more - will require three tests.
The Ministry indicates that tests should not take place on consecutive days - such as Monday and Tuesday or Wednesday and Thursday.
It is Perley Health's position that all individuals should follow this guidance but when testing on consecutive days is unavoidable then the test must be administered.
After a negative rapid test result has been received, all individuals will be given a unique sticker to prominently display on their ID badge at all times. This sticker will allow staff to identify that these individuals are complying with the directive from the Ministry of Health.
This testing and identification system require that stickers showing proof of a negative test be visible on all ID badges. This is done to help keep our community safe.
Identification (ID) badge must be worn by all individuals at all times.
Visitors and Caregivers who are visiting a resident deemed to be at "end of life", will not be subjected to rapid tests but must follow all safety protocols. Access is permitted under Ministry Directive.
Safety Protocols in the Cafeteria and Pub
Safety protocols must be followed at all times in the Pub and the Cafeteria.
These protocols are set by the Ontario government and are very different from the rules outside the Perley Health property, in restaurants, bars and private homes.
Note: By accessing the Pub and Cafeteria you agree to follow all Infection Prevention and Control Practices including:
Continue to physical distance ( 2 m/6 ft);
Sanitize hands;
Wear a mask at all times;
When inside the Perley Health, masks may only be removed when eating or drinking.
When eating or drinking, physical distancing of 2 m/6 ft must be maintained from other individuals.
All Perley Health staff are asked to help maintain a safe environment and to assist and inform all individuals not complying with these guidelines.
Visitors not following these guidelines will be asked to correct behaviour.
Visitors refusing to follow these guidelines or being abusive to staff are putting our community at risk and may lose their visitation rights.
A handout with this information will soon be available for pick up near the Main Entrance.
Respectfully, we ask that everyone follow these protocols for the health and safety of all members of our community.
Mandatory Vaccination Policy
Perley Health has implemented mandatory vaccination for all staff, students, volunteers and contracted service providers.
Following consultation and advice from a diverse range of stakeholders, the leadership team has decided to make the following changes to our COVID-19 Immunization Policy. In making this decision Perley Health followed an ethical decision-making framework.
Our team members have demonstrated incredible courage, compassion and dedication over the last 18 months of the COVID-19 pandemic. More than 94% of staff are fully vaccinated against COVID-19. COVID-19 vaccination is fundamental to protecting residents, staff and other members of our community.
Key highlights of the policy include
For a two dose vaccine series, individuals must receive one dose of the vaccine by September 29, 2021 and two doses by October 29, 2021. For a single dose vaccine series, individuals must receive the dose by September 29, 2021. Note that both the Pfizer-BioNTech and Moderna COVID-19 vaccines, which are the primary COVID-19 vaccines used in Ontario, are both two dose vaccine series.
Effective November 15, only those staff, students, volunteers and contracted service providers with approved exemptions under the Human Rights Code of Ontario will be eligible for rapid antigen testing.
Those who are not vaccinated by the above-mentioned dates, and who do not have an approved exemption, will be placed on unpaid administrative leave.
If by December 31, 2021 individuals have not provided proof of full vaccination their employment will be terminated.
In addition to any Personal Protective Equipment (PPE) requirements already in place, individuals who are not fully vaccinated and those individuals with medical or religious exemptions are required to wear at a minimum a medical mask and eye protection at all times while in the workplace. The only time PPE can be removed is when eating and/or drinking in a designated break area in which 6 ft/2m can be maintained from others.
Medical exemptions
The College of Physicians and Surgeons of Ontario has indicated that there are very few acceptable medical exemptions to the COVID-19 vaccines. Exemptions to the mRNA Covid-19 vaccines used in Ontario almost exclusively fall into two categories at this time:
an allergist/immunologist-confirmed severe allergy or anaphylactic reaction to a previous dose of a COVID-19 vaccine, or to any of its components, that cannot be mitigated;
a diagnosed episode of myocarditis/pericarditis after receipt of an mRNA vaccine.
For those staff who meet this criterion, please ensure the following Medical exemption form is competed and emailed to vaccine@perleyhealth.ca.
Religious Exemption
Following a thorough review, we are not aware of any religion that prevents one from obtaining a vaccination against COVID-19. However, if you believe that you may have a religious exemption, please obtain a letter from your faith leader and email to vaccine@perleyhealth.ca. This letter will be reviewed by a member of the human resources team.
Vaccination is one of the most effective ways to protect our families, communities, and ourselves against COVID-19. Evidence indicates that vaccine is safe for recipients and is effective at preventing serious outcomes, such as severe illness, hospitalization, and death due to COVID-19. We understand this decision will be welcomed by many, but will be difficult for some.
---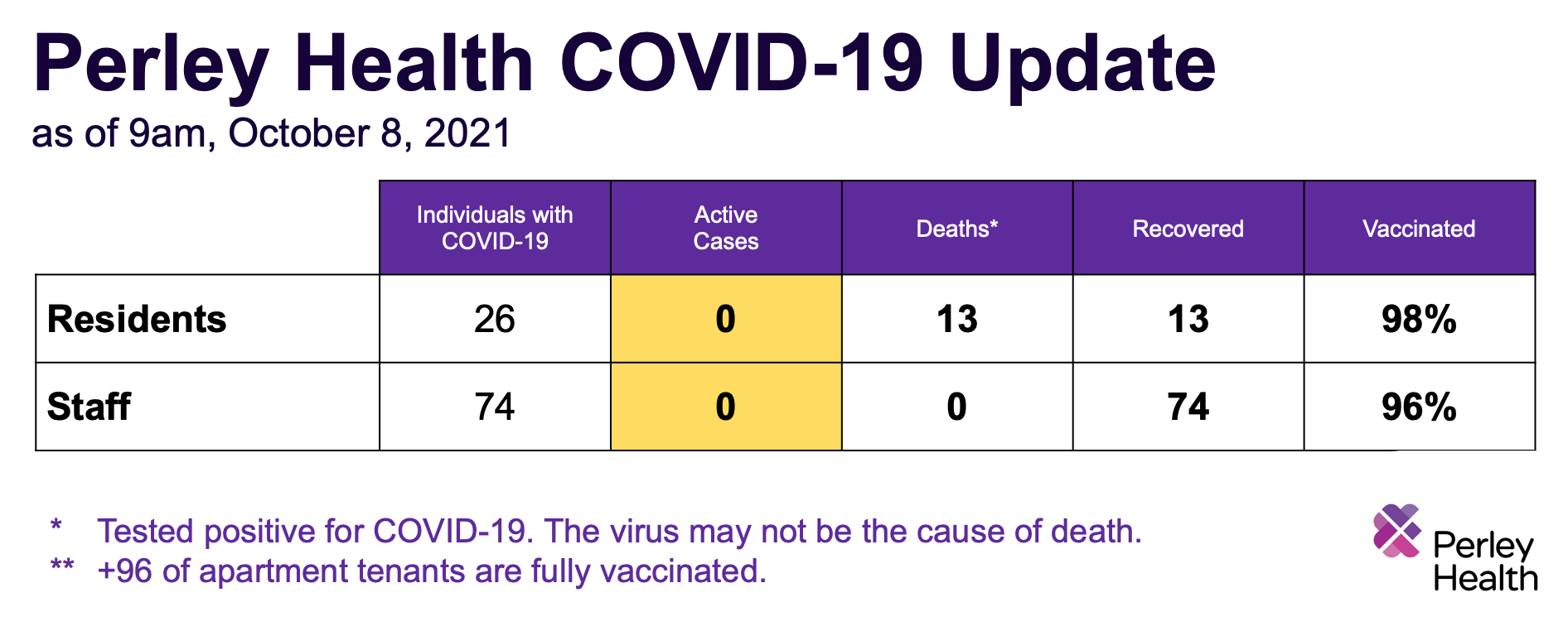 Questions or comments, please contact:
Jay Innes
Director of Communications
Perley Health
1750 Russell Road
Ottawa, ON.
K1G 5Z6
Phone: ext. 2207
Fax: 613-526-7186
Email: info@perleyhealth.ca
---