This Centre of Excellence in Frailty-Informed Care (CoE) strives to become an internationally recognized source of applied research and evidence-based best practices. CoE programs and initiatives are grouped into three broad and complementary areas:
• Excellence in the care of older adults living with frailty (Care)
• Innovation in education, best practices and knowledge translation (Education)
• Applied research to advance the care of older adults living with frailty (Research)





The CoE leads and partners on research that identifies and evaluates best practices in care, as well as in prevention strategies. This research informs evidence-based protocols in care, along with the resources that families and friends need to support older adults living with frailty. The CoE also develops the educational and training resources needed to properly train healthcare professionals. By combining actionable research and knowledge transfer, the CoE will improve the lives of Seniors and Veterans for generations to come.
Below are some examples of ongoing Centre of Excellence activities.
1) See Me®: Understanding frailty together™



In 2019, Perley Health began to implement SeeMe®, a new approach to care. SeeMe® recognizes and assesses frailty as part of a person's overall health, and helps residents and their families to make informed decisions about treatment that may be helpful or harmful within the context of frailty. All Perley Health residents now participate in SeeMe®, care staff are trained in the program and ongoing studies document its impacts. For more information, visit the SeeMe® webpage.
2) Best Practice Spotlight Organization (BPSO)



The Registered Nurses' Association of Ontario (RNAO) develops and promotes the use of evidence-based best practices: interventions proven to improve health outcomes. RNAO selected Perley Health through a competitive process to become a Best Practice Spotlight Organization (BPSO). In partnership with RNAO, Perley Health implements and evaluates best practices in long-term care. By putting the latest research into practice, reducing variation in care and eliminating interventions that have little effect, the initiative promises to further improve the quality of care.
For more information, please visit:
3) Integrated Personal Support Worker (PSW) Training Program


In 2017, Perley Health expanded its longstanding partnership with Algonquin College by establishing a "living classroom" devoted to Algonquin's PSW Training Program. The Program involves a variety of learning environments: classroom and laboratory, along with clinical and community settings. Students in the Program interact regularly with Perley Health residents, families, tenants, staff and volunteers. Some interactions are built into the formal teaching methodology, while others occur organically as a key element of student life at the Perley Health campus. Note that the living classroom has been closed during the pandemic.
4) Specialized Behavioural Support Unit


In 2017, Perley Health reached an agreement with the Province of Ontario to open a 20-bed Specialized Behavioural Unit (SBSU) (unité de soutien comportemental spécialisé, USCS). The Unit features a secure environment and provides safe, enriched care to people with dementia who exhibit responsive behaviours. The addition of this special designation increases Health's contribution to the community, and creates leadership and training opportunities for staff.
For more information visit: SBSU Info (Care Programs)
5) Comfort Care Rounding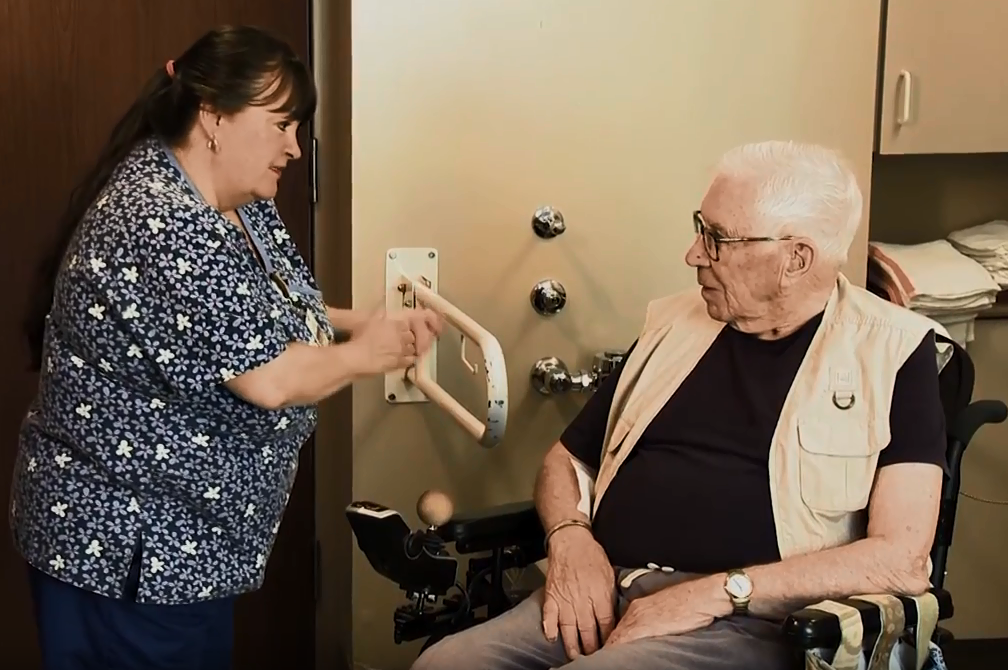 Since 2017, Perley Health has implemented Comfort-Care Rounding: a practice that involves checking in on every awake resident every hour in a formal, documented way, and documenting the results. Research documents improvements in the health and well-being of residents, and the number of falls among residents has decreased. As a result, Comfort-Care Rounding is now standard practice at Perley Health and is widely shared as a best practice. Perley Health has also adapted elements of the practice to formalize interactions between leaders and staff. To learn more about Comfort-Care Rounding at Perley Health and to view training videos, visit this page of the Huron Learning Lab website.
www.huronlearninglab.com/comfort-care-rounding
6) Seniors Quality Leap Initiative



The Seniors Quality Leap Initiative (SQLI) is a strong community of practice with 13 committed member organizations and nine strategic partners across North America. Its mission is to enhance the quality of life and care for seniors by: utilizing a structured approach to quality and performance improvement; documenting impacts and outcomes; and disseminating recommendations to the broader post-acute and long-term care sectors. A proud member of SQLI since 2015, Perley Health surveys residents annually according to InterRAI Quality of Life criteria.