We are incredibly grateful for all members of the Perley Health community; from the amazing individuals who make up our tenant and resident populations, to our staff and volunteers who work tirelessly to provide excellent, person-first care to all of our Seniors and Veterans. Our community is a diverse group of talented, driven, hardworking individuals who strive for excellence in the way that they provide care, in how they continually seek opportunities to learn and expand their skills, in how they embrace innovation and best practices, and in how they set the standard for excellence.
Watch this page as we continue to share stories and features that highlight the amazing accomplishments of the Perley Health community! All of the stories featured here will also be sealed in the Perley Health memory bench, along with other treasures, this fall. Click here for more information.


Christiane Charron
Christiane Charron is easily recognizable to the Perley Health community not only because of her warm smile, but because her singing voice can so often be heard within the building as you walk the halls. Christiane is a long-time Perley Health volunteer whose experience includes spending time with residents and tenants, working in Deborah's Gift Boutique, and, most recently, being one of the first faces people see upon their arrival at the Perley Health Swab Clinic. In recognition of all of her dedication and hard work, Christiane received the Perley Health Volunteer of the Year Award in 2023. Congratulations, Christiane! Thank you so much for all that you do.
Joan Olinik
Joan Olinik, a long-time volunteer shares what makes Perley Health so special, and what volunteering means to her. In 2023, Joan received her 10-year volunteer pin at the annual Volunteer Awards! Thank you for helping enrich the lives of Seniors and Veterans, Joan.
Roland Lalonde
Roland Lalonde, a Veteran and Perley Health resident, is in his 100th year and on a mission to create 100 paintings.


A Master of His Brush, Roland has been painting since the 1970's, using oil on canvas until having to stop in 1982 due to illness. After a special trip with his son to Peggy's Cove, he rediscovered his love of painting. He decided to continue with acrylic and cardboard, recreating landscapes and scenes from nature that hold meaning to his friends and family. Upon moving into Perley Health in the fall of 2021, Roland discovered The Ozerdinc Grimes Family Therapeutic Recreation and Creative Arts Program and worked with the program team to continue to pursue his passion, using his computer and art supplies to paint in his room. Since joining the Perley Health Community, Roland has finished more than 30 paintings and has donated all of these pieces to the Perley Health Foundation to raise money for Veteran Care.
Dave Harris
Read our special feature on Dave Harris, Recreation Therapist, who shares some Perley Health history and celebrates more than 30 years of memories!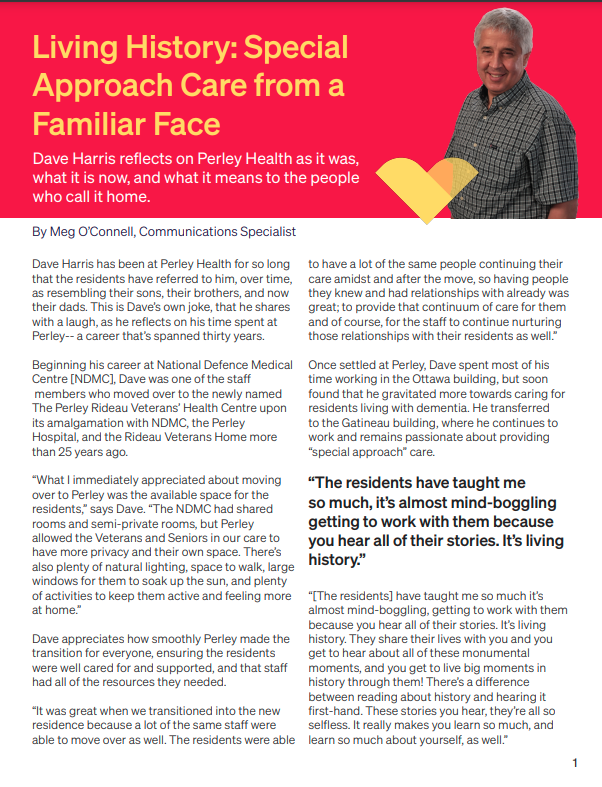 Read Dave's full feature here! (.PDF)
Sam Hallgren
Read our special feature on Sam Hallgren, GNC(C), CHPCN(C), who became the first staff member in Perley Health history to obtain CHPCN certification!