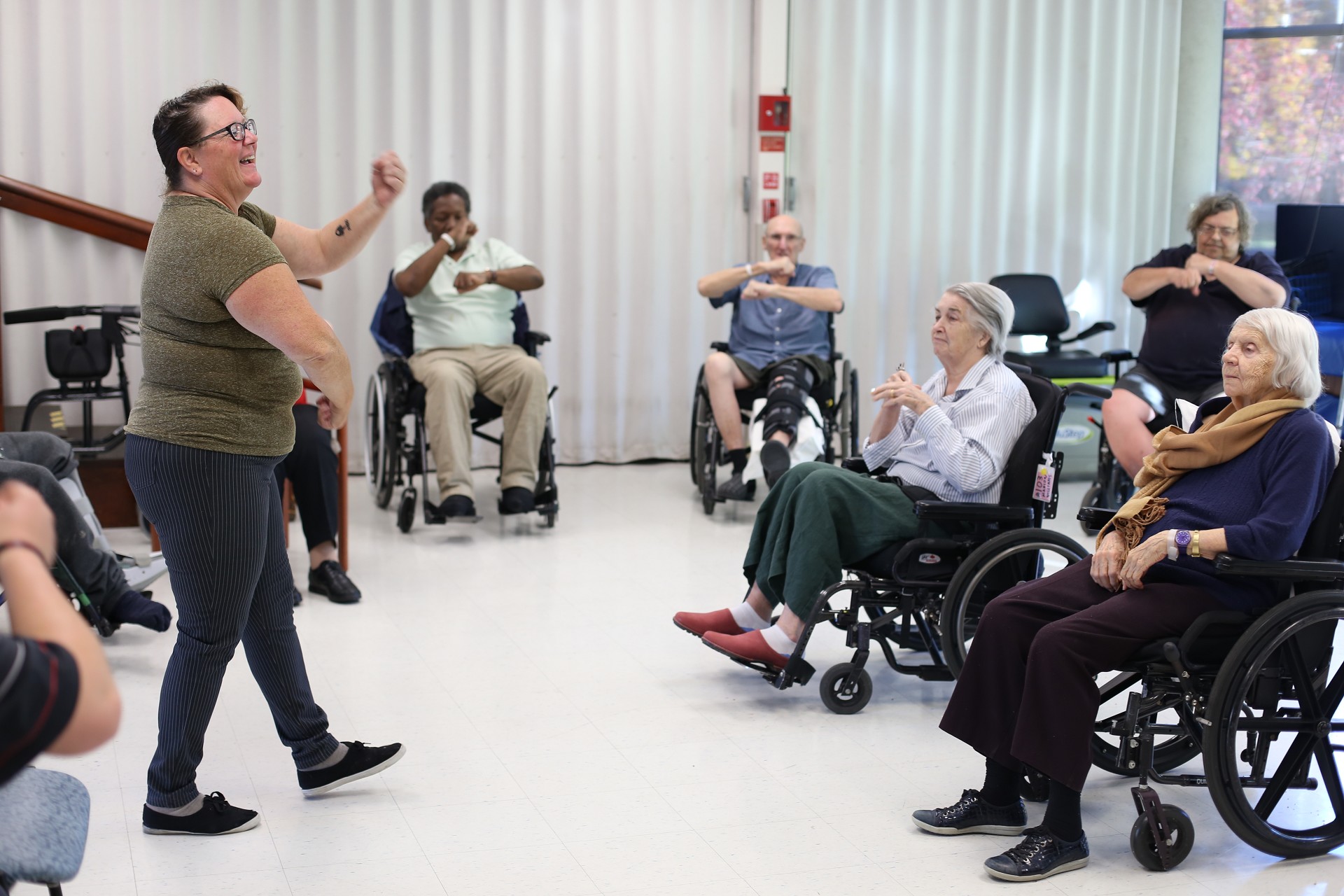 An exercise class for patients in the convalescent care program, photographed prior to the pandemic.
Inquiries and Admission Process
Convalescent Care Returns to Perley Health

Closed during the pandemic, the short-stay unit will re-open in the Ottawa building

October 31, 2022 – Ottawa, ON
Convalescent care will return to Perley Health with the re-opening of 34 beds in the Ottawa building before the end of this year.
This short-stay unit closed in 2020, due to the pandemic, as directed by the Ontario government.
Convalescent care is available for clients who no longer need to be in hospital, but who are still unable to return home. The unit provides clients with supportive and rehabilitative care, focused on physical recovery and overall well-being, to regain health and strength after an illness or surgery. The majority of the costs for this program are covered by OHIP, for up to 90 days per year.
Located in the Ottawa 1 East unit, individuals residing on this unit may be moved and will be informed and engaged before relocating to other rooms at Perley Health. These moves will consider the needs of each resident. On November 9th, long-term care residents on the unit will begin to move to other rooms within Perley Health. All moves within Perley Health will completed by Dec 9th, well before Christmas.
"We acknowledge that moving from a person's home can be disruptive, perhaps even unsettling," says Akos Hoffer, CEO. "Our team commits to provide plenty of advance notice and support for residents moving out of the Ottawa 1 East unit."
The convalescent care unit was closed by directive of Ontario government in March 2020 and will have been closed for more than 1000 days when it welcomes the return of clients before the end of the year.
The 20-bed COVID-19 isolation unit in the Ottawa building will convert back to a long-term care residence and may become the new home for residents moving from Ottawa 1 East.
Perley Health established a 13-bed unit devoted to convalescent care in 2013. The unit addresses an unmet need in the community and proves to be so successful, it was twice expanded to reach its current capacity of 34 beds, and is increasingly emulated by long-term care centres in the region.