Information for Veterans and Families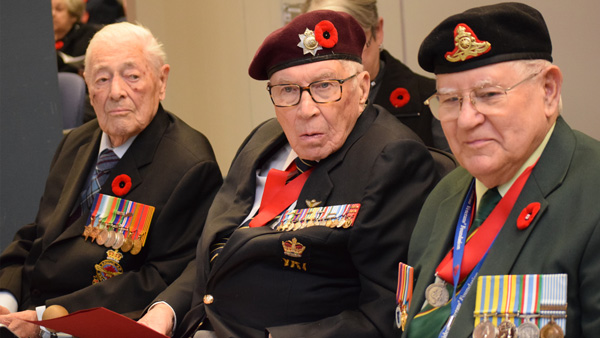 Quick Facts
Perley Health was created from the merger of The Perley Hospital, the Rideau Veterans Home and the National Defence Medical Centre. Today Perley Health is a 450 bed long-term care facility, including 200 beds for seniors for the community along with more than 200 beds for Veterans of the Second World War and the Korean War.
In 1992, the Rideau Veterans Home was transferred from Veterans Affairs Canada to the province of Ontario. Since that time Perley Health, along with the federal and provincial governments have worked together to support Veterans.
In 2016, Veterans Affairs Canada contributed almost $9 million to Perley Health to support special programming and enhanced services.
The current funding for long-term care for Veterans of the Second World War and the Korean War pays for enhanced care, including the expertise of the Psychogeriatric Resource Nurse, as well as dental care and other higher-than-standard services and programs. One such program is the highly prized Recreation and Creative Arts program that receives more than $1 million per year.
Perley Health's enduring commitment to all former members of the Canadian Armed Forces is evident in its policy that provides priority access to the two independent living seniors' apartment buildings within the Seniors Village.
Read the March 27, 2017 media release from Veterans Affairs Canada announcing the creation of the special 25-bed unit for Veterans: Click here.
---
Home and Community Care Access
All long-term care homes in Ontario, including Perley Health, coordinate admissions through Home and Community Care Support Services Champlain.
Once you have decided to go forward with your application, the Home and Community Care, Champlain Local Health Integration Network (LHIN) will assign you a Case Manager to guide you in gathering the medical and personal information required for admission. Your Case Manager may offer help, if you need it, in choosing a home
---
Veterans Affairs Canada
Within Perley Health, more than 200 beds are designated for as Veterans and Veterans Affairs Canada helps determine the eligibility of each Veteran for admission. There is a Veterans Affairs Office located on the first floor of the Health Centre. If a representative is not in the office at the time of your visit, please call 613-998-1226 to arrange an appointment.
For questions about personal service and eligbility, please contact Veterans Affairs Canada.
1-866-522-2122 (English) or
1-866-522-2022 (Francais)
---
Rates
Within Perley Health, more than 200 beds are designated as Veteran Priority Access Beds and Veterans Affairs Canada sets the rates for veterans.
---
Highlights from Remembrance Day, 2018
Pay-It-Forward: a touching story from 2018